Regular price
$189.95 USD
Sale price
$98.95 USD
Unit price
per
Sale
Sold out
Hurry up! Only 3 left in stock
2023 Newest NugetDrive Dash Cam with Wireless Apple CarPlay & Android Auto
Stay safe and connected while driving with Apple CarPlay and Android Auto, now available through our NugetDrive camera. Simply connect your phone via Bluetooth or WiFi to access music, navigation, and other features hands-free. With our state-of-the-art NugetDrive's, you can keep your focus on the road and drive with confidence. Experience the convenience of a smarter and safer driving experience with our advanced NugetDrive's.🚗📱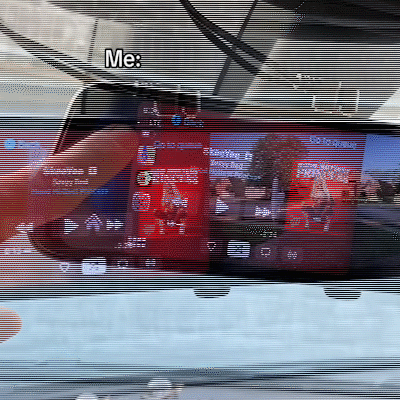 Type-C Interface & Split Screen
This front and rear backup mirror camera upgrades to type-C interface for more durable and effective use, and also supports the simultaneous display of front and rear view images on the screen, it also supports setting it for Carplay plus real-time Front/Rear view (Android Auto only available for half-screen). Therefore, you can observe the dynamics of the vehicle's front & rear in real-time while driving, bringing you a safer driving experience.🔄🚦📷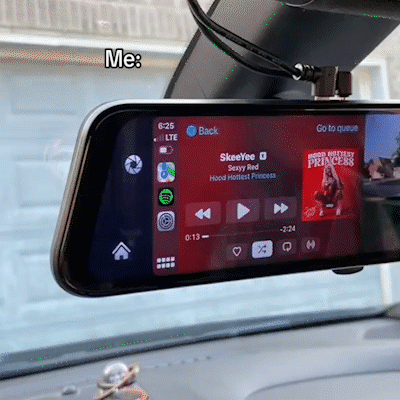 4K Resolution
NugetDrive's rearview mirror dash cam is equipped with advanced AHD and WDR technology, it can effectively balance the brightness of over light or dark to capture high-quality footage in any situation- day or night. It records high-definition videos no matter in daylight or at night, rainy or sunny. You can choose 4K,2K or 1080P for recording resolution.Built-in High-Silicon chip, adopted Sony Sensor and high transmittance 6-glass lens, which provides up to ultra HD 4K (3840*2160P) on the front view and 1920*1080P on rearview mirror camera. The six-layer glass lens of the mirror camera enhances night vision in a dark environment.🎥🌙🌧️🌞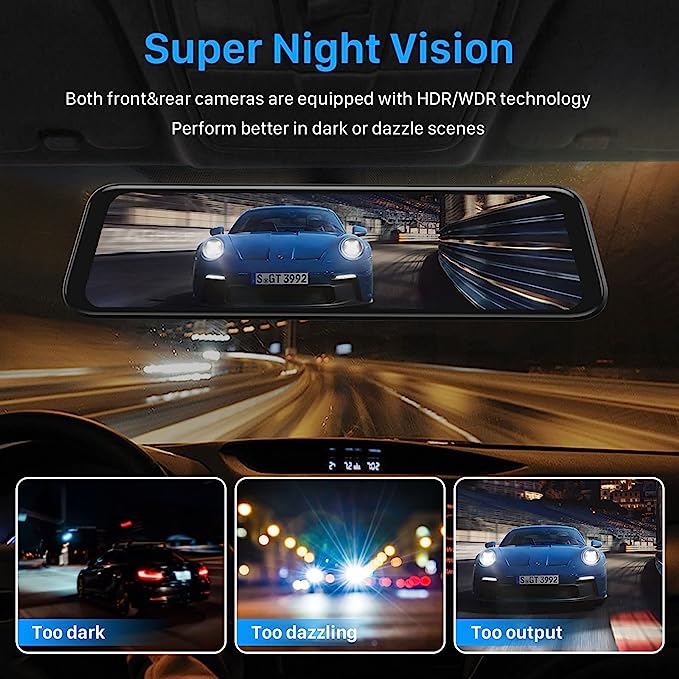 Enhanced Black Screen
The NugetDrive advanced monitor screen has better light transmission and touch sensitivity, remaining clear even under intense sunlight. Note that it can be used as a normal rear mirror when powered off.Enjoy clear visibility in bright conditions with our innovative technology.☀️📷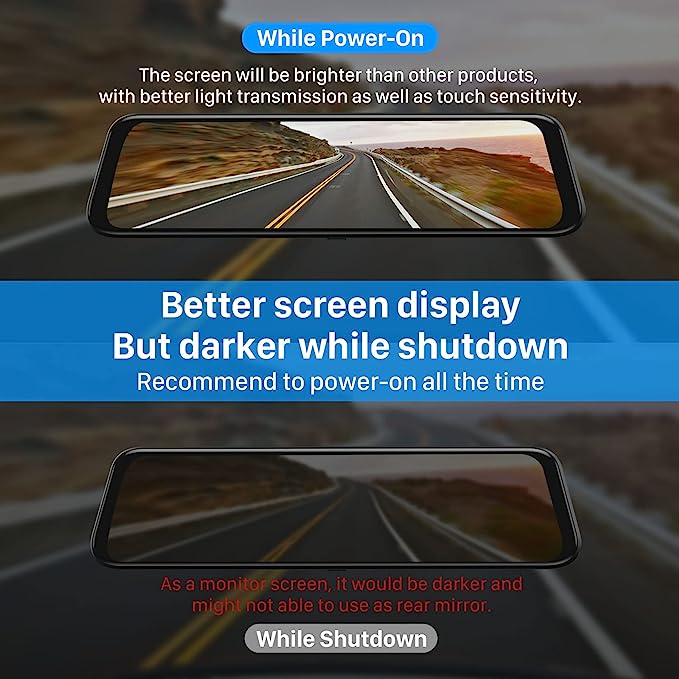 Sound System
The NugetDrive Dash Cam Car Play has a built-in speaker, you can also play sound through your car audio system in 3 ways:
1. By FM transmit: Set the same FM channel on the touchscreen and your car radio (please avoid using the channel to be occupied by the FM station);
2. By AUX: Plug the aux cable into the aux port;
3. By Bluetooth: connect your phone with the car radio Bluetooth.
Multi Functions & Support up to 1TB card
- This car stereo supports multiple languages: English/Espaol/Italiano/Deutsch & more. You can get ALL necessary functions from NugetDrive's stream media rear view mirror camera, such as Loop Recording, Parking Monitoring, G-sensor, Parking Guide Lines, Adjustable Brightness/View Angle, GPS, etc. Besides, it supports up to a 1TB card (32GB card is included).🌐💡📏📡
Split Screen
The screen supports the simultaneous display of front and rear view images on the screen, it also supports setting it for Carplay plus real time Front/Rear view
Accident Video Lock
When an accident occurs, automatically lock and preserve footage for after-the-fact viewing. Evidence is captured.
Loop Recording
When the TF card is full, the device will receive and automatically overwrite the old file. Never miss a moment and always have available footage.Save storage with auto overwrite.
24-hour Parking Monitor
Monitor your vehicle's surroundings when parked for 24 hours straight.Motion detection triggers recording,while parking mode enablessurveillance. Safety assured even when away.
Wide Dynamic Range (WDR) technology
It provides clear, balanced footage in any lighting by adjusting for over or under-exposed areas in the image. It captures critical details that standard cameras miss, like license plates at night or features on backlit faces during the day.
With WDR, you see more in less-than-ideal conditions where normal cameras fall short.
Support adjusting the height/distance/width of the reversing auxiliary line, meet your customization needs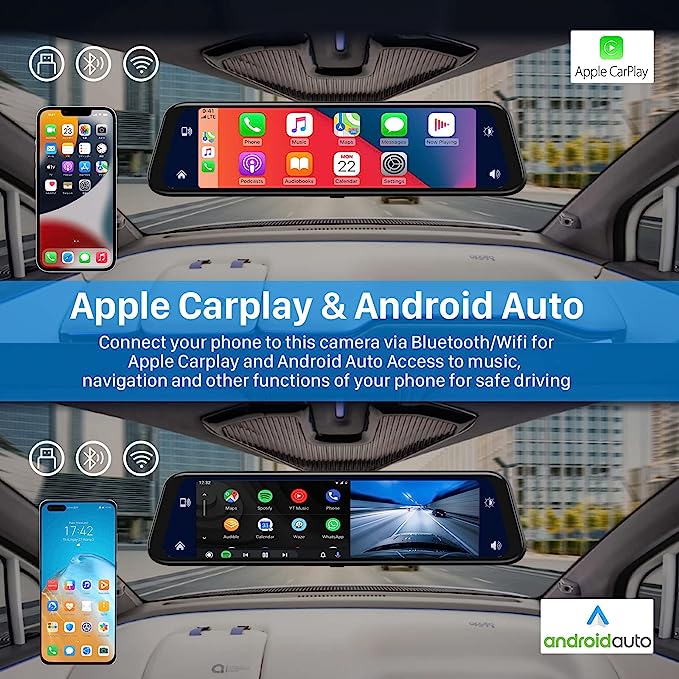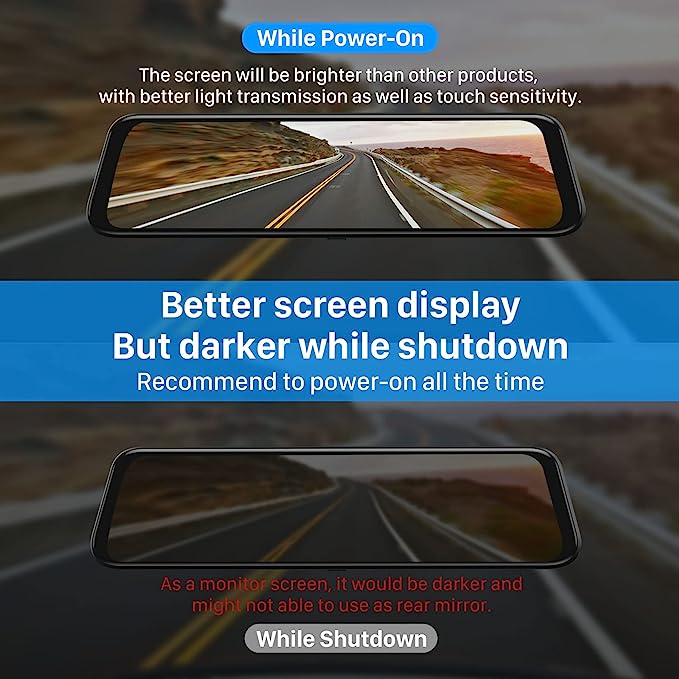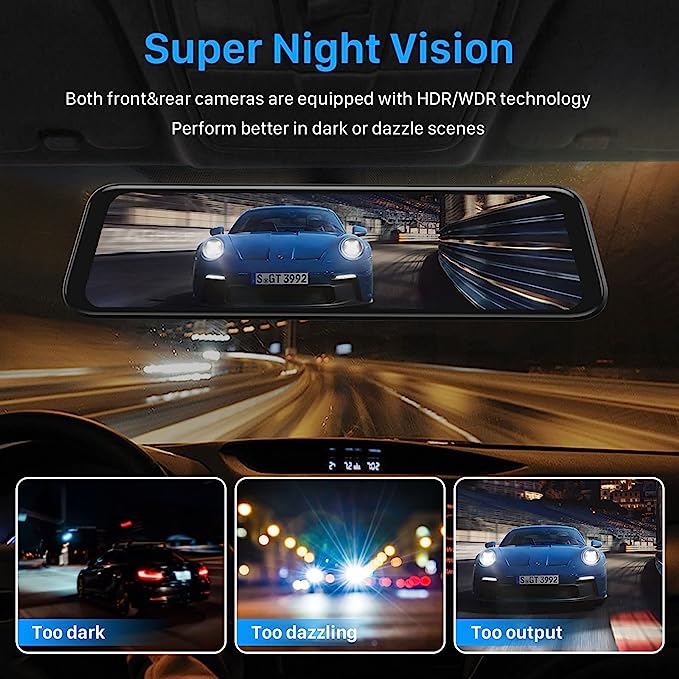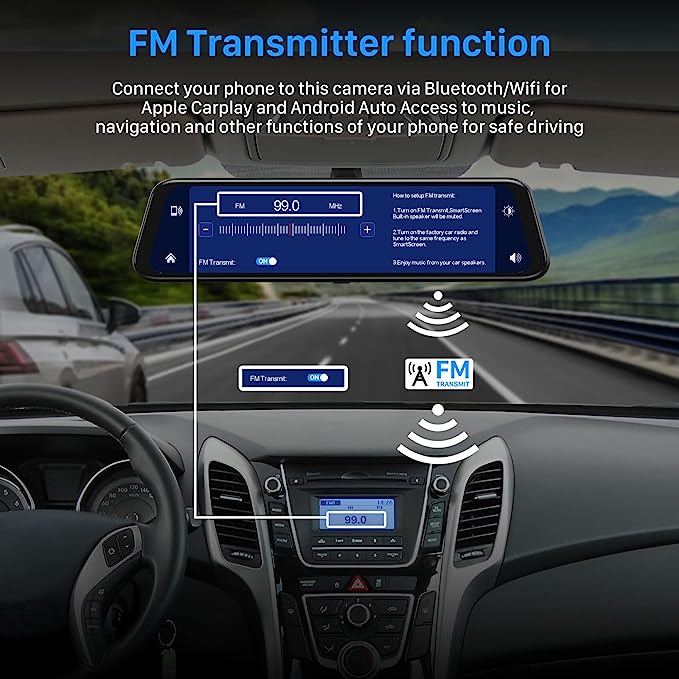 View full details