Regular price
$89.95 USD
Sale price
$44.95 USD
Unit price
per
Sale
Sold out
Hurry up! Only 3 left in stock
Rotation vs. Levitation:
Rotating Moon Lamp: A rotating moon lamp is designed to mimic the motion of the moon orbiting around the Earth. It typically sits on a base and uses a motor to rotate the moon model, giving the illusion of the moon moving in the night sky.
These lamps come in various designs, but the primary focus is on simulating the moon's orbital motion. The lamp itself may not be as visually striking as the levitating counterpart.

Levitating Moon Lamp: A levitating moon lamp uses magnetic levitation technology to suspend the moon model in mid-air above its base. It creates the illusion of the moon floating or levitating, which can be a captivating and mesmerizing effect.
Levitating moon lamps often have a more futuristic and eye-catching design, as the primary feature is the moon's suspended position, which can be a conversation piece and a work of art in itself.
🌙 Realistic Lunar Texture:
Every crater and contour of the moon's surface is replicated with precision, making you feel as though you're stargazing from the comfort of your home.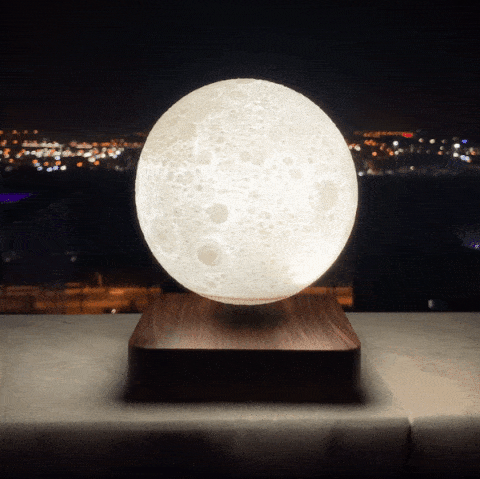 🪐 Effortless Elegance:
Watch in awe as this moon lamp appears to float gracefully, evoking the celestial wonder of our lunar neighbor.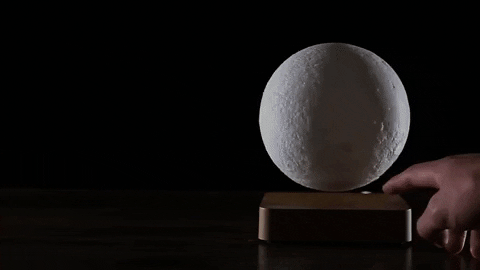 The Physics
Inside the wooden base you'll find an array of electromagnets and a magnetic induction charger.
When lowering the moon onto the base, the outermost electromagnets serve to attract the base while the inner magnets create a repelling force. This is what holds the moon in place and causes it to hover a few centimetres above the base.
Now once within the range of the moon's base, the receiver is able to pick up power from the charger block via magnetic induction.
Energy Saving and Low Power Consumption
Our levitating moon lamp uses energy efficient LEDs and has a wireless power module that is capable of transmitting just enough power to light up the bulb completely. No need to worry about the electricity bill skyrocketing, even with continual daily use.
Product Description:
Lunar lamp diameter: 14cm
Suspension distance: 15mm
Base size: 13.4x13.4x2.8
Light color: white light, warm white, yellow light
Plug type: US UK EU AU
Switch type: touch
Power supply: 12V 1A
Package Includes:
1*Magnetic Levitation Moon Lamp
1*Power adapter
1*User Manual
View full details